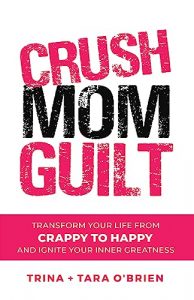 Mom guilt. It's the deep, dark side of motherhood that no one talks about.
But it's there, and it's real. In everyday decisions, guilt seeps through the cracks of your mom-soul, and you question if you are giving, doing, and being enough. It robs you of giving time to yourself.
You are NOT ALONE.
Crush Mom Guilt is a book co-authored by Trina and Tara O'Brien, former collegiate athletes, and co-founders of Power Mom. This book will empower and inspire you to overcome the deep-seated feelings of regret and imperfection that often accompany motherhood. $0.99 on Kindle.