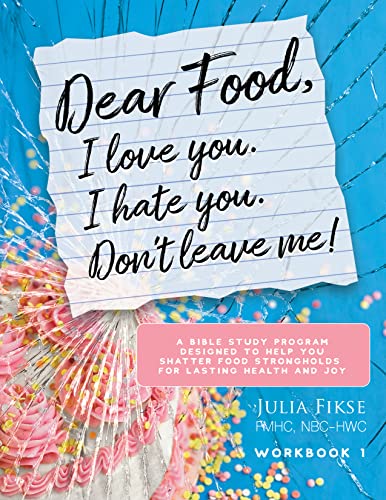 Finally… the healthy eating Bible study you've been waiting for!
Using a blend of relevant scripture, clinically proven tools for success and priceless humor, Dear Food, I Love You. I Hate You. Don't Leave Me! will help you achieve the vitality, confidence, and abundant life you long for.
As you progress through the material in this book, you be taken on the following journey:
Learn how food, emotions and your prayer life intersect
Explore listening for the Lord's guidance when it comes to eating practices
How to break free from unhealthy food & food behavior
Incorporate practical prayer in your food and eating situations
Improve your mental, spiritual and physical health
Break free (and stay free) from food strongholds
Begin your Dear Food, I love you. I hate you. Don't leave me! journey… and start feeling better today. $1.99 on Kindle.