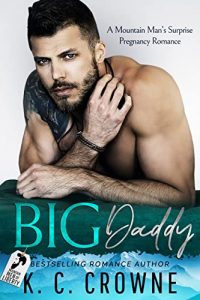 What can a hard-headed city girl have in common with a recluse lumberjack?
Other than amazing, mind-blowing s*x?…
So much more than meets the eye.
His colossal Adonis frame,
Larger than life personality,
And habit of staring at me for too long…
All add up to one horrible first impression.
Brody demands I put a hard stop to my father's development project.
Now both my stress levels…
And my libido are on fire.
I'm not one to back down easily.
And Brody is now officially my father's worst enemy.
But one day the big intimidating mountain man meets my sweet six year old girl…
And a completely different side of him comes out.
Lurking beneath the gruff exterior and beard could be the heart of a romantic.
And I finally allow my heart…and my libido do the talking.
But I can't help wonder, can I help Brody save the forest from destruction?
And the more pressing question….
How will I break the news to my father that I'm knocked up with the person he hates most? $0.99 on Kindle.