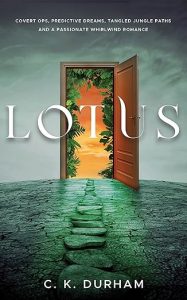 Covert operations. Predictive dreams. Tangled jungle paths. A passionate, romance.
Isabela is haunted by her dreams. When a series of synchronistic events merge her nighttime dreams with reality, Isabela follows her intuition to study with a master watercolor artist in Thailand. She descends the airplane airstairs in Bangkok into an overwhelming heat and a future with unforeseeable consequences.
Navy pilot Lance Jameson is flying jets off the USS Midway when he is recruited for a covert mission along the Laotian borderand a return to the far eastern land of his youth.
Charged within the backdrop of pre-Vietnam war era three lives converge in an epic multi-generational novel that spans four decades. Lotus explores the brutality of war, the mysterious interconnection and impermanence of nature, and the freeing power of redemption.
$0.99 on Kindle.