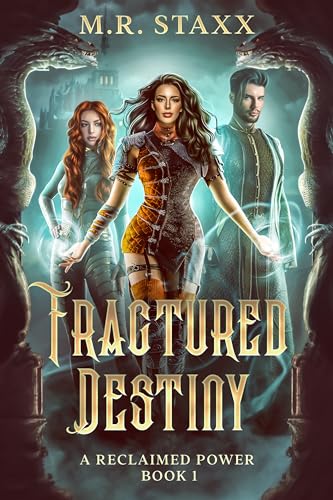 True loves a cruel joke.
As a descendant of Poseidon, my magical abilities are immense. At least they were until I fell in love and was tricked into having my powers stripped. Never again. Exiled with less than my full powers, now all I want is to reclaim whats mine and dish out some pain to those who took them from me.
It wont be easy. And once I recover my powers, the Oracle foretells disaster. Worse, fate decrees that I must mate with four different fae.
Among my exotic fated mates are a commanding dragon shifter, a hot-tempered fire fae, and a grounded earth fae. Each has their own allure, and they call to me in a way I cant resist no matter how hard I try Nor can they resist me.
But being bound means being vulnerable. And Im done with that. I never asked for mate bonds and a destiny that robs me of my choices.
Can I reject my fate? Im going to try, despite the darkness closing in.
The first book in a new steamy supernatural series, Fractured Destiny is filled with dark romance, sexual adventure, and a fierce heroine wholl be tested by fate and mates who will challenge everything she believes. $0.99 on Kindle.