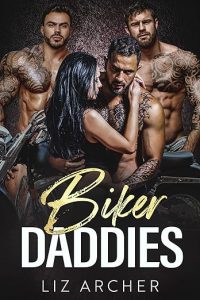 It started with one drunk sext to three silver fox bikers…
And ended with two babies in my belly.
My daddy taught me better.
I should've known not to drink too much tequila…
And sext all three of his hot-as-sin best friends.
But Alto, the very bossy VP, makes my heart race faster than his bike.
And Colt is a walking, talking wet dream. One look from his smoldering green eyes sets my panties on fire.
Then there's Bane… He won't open up about his past, but I just want to suck the scars off his lips.
Waking up sandwiched between the three of them is a fantasy come true.
But all hell will break loose once Daddy finds out his angel is getting passed around by his biker buddies…
And one of them is the father of my twins.
BIKER DADDIES is a scorching standalone MC reverse harem romance that is guaranteed to get your engines revving. Follow the Prez's daughter Harlow as she falls for three off-limits, alpha bikers. No cheating, no cliffhangers, ultra-swoony HEA guaranteed! $2.99 on Kindle.