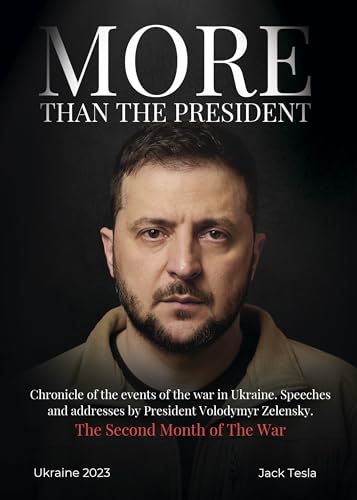 More Than The President: The Second Month of The War is a logical continuation of the documentary chronicle of the events during the hot phase of the war that Russia initiated against Ukraine on February 24, 2022. This new phase of the war is total and bloody, using modern weapons, making it the largest war in Europe since World War II. A war that will no longer be called a 'local conflict' by future historians.
The first month was the most difficult and dangerous period. It was then that the Ukrainian people proved to everyone that the country was united against the enemy, that the number of collaborators and the fifth column that the invaders were counting on was very small, and that the Russian-speaking East of Ukraine did not want to become Russian territory in any way. The Armed Forces of Ukraine, trusted by the Ukrainian people, have proven to be a modern army that stopped the 'second army in the world' and prevented the capture of either the capital of Ukraine, Kyiv, or the first capital, Kharkiv.
This book serves as a reminder to the reader of the tragic and heroic events of the second month of the war in Ukraine initiated by Russia. Daily news articles, reports from official sources, speeches, and addresses by the President of Ukraine, Volodymyr Zelensky, are arranged chronologically.
A separate page in the history of the war is the feat of Mariupol. The fighters of the 36th Brigade and the 'Azov' regiment, who did not leave the city, continued to resist, being completely surrounded under enemy fire from all possible calibers and types of weapons.
In the second month of the war, Northern Ukraine was liberated from the Russian invaders. The joy of victory was overshadowed by the fact that in the liberated territories, numerous facts of enemy crimes against civilians were revealed. It was in this month that arms deliveries from NATO countries and other democratic states began.
This book serves as a reminder to the world community that the Russian-Ukrainian war continues and that Ukrainians with weapons in their hands defend the well-being of Europe and the entire civilized world. Our goal is to be a united civilized world, so acquaint yourself with the book to truly understand the events that have unfolded in Ukraine and join the team that is fighting for freedom and democracy against the military policies of the Russian Federation.
Visit the author's page at jackteslabooks.com for more information. Free on Kindle.