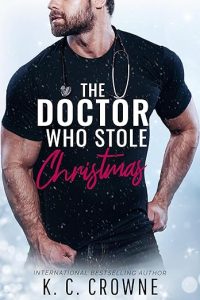 A grumpy doctor.
His disgruntled nurse.
A wicked blizzard.
And only one bed in sight.
Talk about a perfect storm.
I never expected to find myself trekking through a blizzard on my big 4-0…
All to drop an envelop with some important papers to Dr. Scrooge's cabin.
Why can't Mr. Bigshot-pain-in-my-butt beam it up with his gigantic ego?
When I finally arrive to a cabin in the middle of heck-if-I-know!…
I find a smoldering man, nearly a decade my junior, who can't even remember my first name.
Now I'm trapped in the middle of a winter storm.
No place to stay but his one bedroom cabin.
With the inferno of tension rising between us,
I question: Will we survive the night, or will it consume us whole? $0.99 on Kindle.