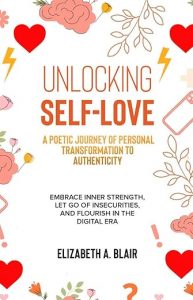 Unlocking Self Love: A Poetic Journey of Personal Transformation to Authenticity
 Ready to dive into an adventure of self-discovery in the digital age?
Curious about self-love amidst the complexity of modern life?
Join our modern millennial woman as she takes you on a hilarious yet heartwarming journey to self-discovery. Through witty poems and verses, she shares her candid, quirky, and downright empowering experiences!
Discover Relatable Hilarity: Laugh out loud, connect with her tales of embracing quirks, and witness her epic battles with frenemies.
Swipe Right for Wisdom: Dive into the dating app escapades and find inspiration in her journey to self-worth that's way beyond the world of right swipes.
Yoga Mats and Mindful Giggles: Learn how she contorted her way through yoga classes and found mindful hilarity in everyday chaos.
Adulting, with a Side of Chuckles: Relate to her tales of adulting, including bills, breakdowns, and binge-watching, all served with a hearty dose of humor.
Prepare for a literary joyride through the digital landscape, and let her words inspire you to:
Embrace your quirks with self-love and a smile
Handle friendships and boundaries with sass and style
Find mindfulness while indulging in a little digital laughter
Face adulting with grace, humor, and a wink
Unleash the time-tested wisdom of self-love in the era of screens and hashtags. Grab your copy today and embark on your adventure to self-empowerment, one chuckle at a time! $0.99 on Kindle.