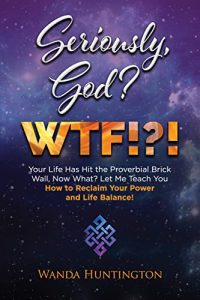 Seriously, God? WTF!?! is an openhearted book for people who have come up against real obstacles in life and need some structure, fortitude, and reassurance to move on in a positive way. We are all vulnerable and subject to feeling shot down in life as part of the human condition. Whether from a diagnosis out of the blue or from the loss of a loved one through death or divorce or from a job loss that can have not only a financial impact but can deliver a blow to our identity, we all have the need at times to take stock and reassess.
From her own experiences, Wanda Huntington is helping others take back their agency by focusing on conducting their own self-inventory and putting in the hard work that will lead to positive outcomes. It is easy to just get stuck after a major blow.
Huntington's book seeks to help readers in finding the insight and power to make meaningful changes from the inside out. Free on Kindle.