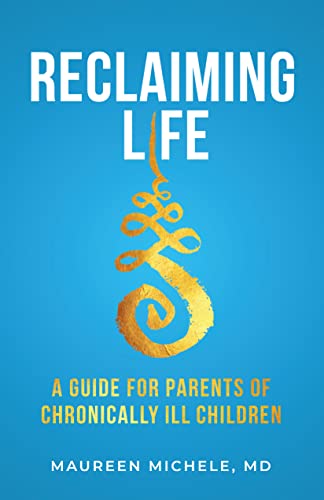 Are you a parent of a chronically ill child who is struggling to manage overwhelming chaos? Do you feel lost in a world that revolves around navigating the health concerns of your child? Does worry lead your life – making you unable to achieve your personal goals?
Don't feel hopeless! You can reclaim your life!
A beautiful piece of writing through the eyes of a mother and physician, Maureen Michele's book explores the problems that parents with chronically ill children commonly face. She teaches about the foundation of resilience and the development of courage for parental advocacy. The book helps parents overcome self-neglect and discusses the strength of asking for help.
Told with personal stories, Reclaiming Life: A guide for parents of chronically ill children plunges into the mind of parents who become consumed with worry and fear when their children face medical challenges. With heart-warming stories and profound lessons, Maureen Michele shows parents how to create the life of their dreams despite their child's challenges. $0.99 on Kindle.