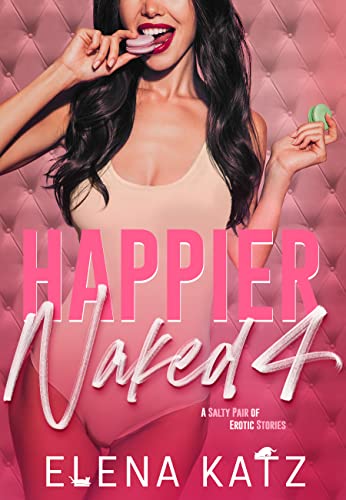 Her nights are a revolving door of hilarious hookups. What shocking sexcapades will this self-proclaimed tramp share?
Elena Katz gets off on life. And she's free to do as she pleases in her daring open marriage. So no matter which man she leads up the stairs, she's no stranger to a causal romp turning salaciously delicious or delightfully embarrassing.
What bedroom misadventures will she find in the crazily surprising modern dating world?
In a fun-filled, juicy account of embracing arousal under the tutelage of her husband and a rotating roster of lovers, Elena Katz explores the kink scene and steamily scandalous scenarios. And as she takes readers along her laughter-fueled journey of radical trust, those looking for an eye-opening scoop into sensuality will leave extremely satisfied.
Happier Naked is an entertaining and titillating memoir unfolded over a four-book series. If you like unapologetically upfront heroines, conversational-style anecdotes, and flirtatious gossip, then you'll be down with Elena Katz's playful diary.
Buy Happier Naked 4: A Salty Pair of Erotic Stories for a naughty ending today! $0.99 on Kindle.