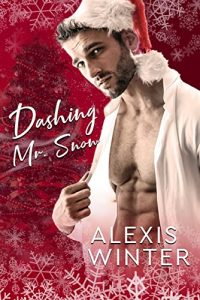 "Maybe we can be a little naughty. You want to be naughty for me, right?"
The last thing I expected to get for Christmas was being dumped by my boyfriend—after all, I'm always on Santa's good list.
But walking in on my naked boss and seeing his candy cane was an even BIGGER holiday surprise—one that has me headed straight for a lump of coal this year. Alex Snow, the billionaire CEO of Snow Communications and the only living heir to his family's fortune, has a reputation for being intimidating.
Not in the "I'm an arrogant bosshole" kind of way, but more of a "I value my privacy above all else" kind of way. So imagine his delight when I stumble into what I think is his home office with a contract in hand just as he emerges from the shower. Only… it isn't his office. It's his bedroom, and the low-slung towel hanging off his hips slides down his muscular thighs, landing in a perfect pile at his ankles. There's nothing like falling to your hands and knees in raging embarrassment after making direct eye contact to gather up the papers you dropped.
What I thought would certainly end my career at his company has suddenly catapulted us into an unlikely friendship. One that has me spilling all my secrets one drunken night when we end up stuck in an elevator. But the moment he pulls me into his arms at a mistletoe kissing contest, he awakens something in me I didn't know was there, something I want to explore more. He pushes my limits, making demands of my body that have me begging to stay on the naughty list. But when he comes home with me for the holidays as just a friend, lines start to blur, confusion takes over, and my ex shows back up in my life, telling me all the things I've wanted to hear him say for so long. Suddenly, my heart and my head are in an all-out war. One that has me questioning if my broken heart still pines for my ex, if this is just a game of forbidden lust, or if I'm already in love with my boss, the Dashing Mr. Snow. $0.99 on Kindle.