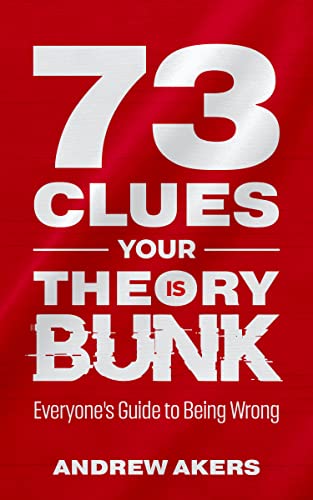 People unknowingly subscribe to false assumptions. When widely shared, these become powerful mass delusions. While voices of truth ultimately have the advantage, and do win out eventually, there can be epic losing streaks along the way.
This author (who has a passion for arguing with people who are clearly wrong) noticed recurring patterns in these false assumptions, and in the characteristic ways they're advanced and defended. Here he reveals (and explains) a multitude of common tells–universal clues to the presence of bunk.
This book offers a new weapon to the side of truth. By listening to people explain and debate, you'll be able to spot the faulty theories and challenge their misguided proponents, even on unfamiliar subjects.
Whether you look at others' theories or your own, 73 Clues will help you understand how wrong ideas infect the minds of otherwise reasonable people, and possibly recognize your own false beliefs and misconceptions. $4.99 on Kindle.