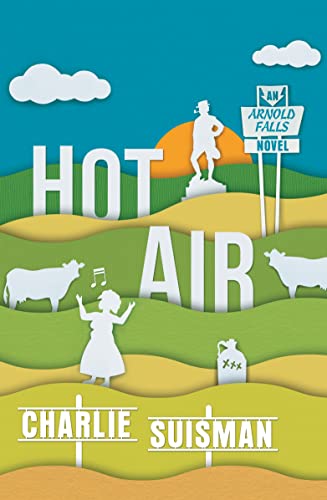 "**Hilarity** in the Hudson Valley's oddest small town…alive with quips, wit, misunderstandings, amusing local-isms, and an overall sense of **irresistible momentum**." —*BookLife*
"**Witty and engaging**" —*Kirkus Reviews*
"Hilarious" —Chanticleer Book Reviews
"Charmingly written, with a strong sense of fun, there is a wonderful P. G. Wodehouse feel to it." —The Wishing Shelf
It's summer in Arnold Falls, where's the more than enough hot air to go around. In book two of the series, there's a proposal to change Arnold Falls' name (for a cash payout). Town memorabilia is going missing in the dark of night. And what is happening at the hospital? Something definitely not good.
All these strange goings-on are prompting identity crises wherever you look. Jeebie returns to narrate much of the story, having to deal with his place in the community. Does his place include a cow named Minna? Meanwhile, Jenny, the new mayor, is helping her newly adopted son acclimate to the town. And a television series about a Hudson Valley hamlet (that bears a lot of resemblance to Arnold Falls) is using the town for filming.
Will the town get its memorabilia back? Will it get its name back? Will it get its mojo back? Probably, but, as always in Arnold Falls, they'll take the long way home and they will definitely stop for doughnuts.
"This comic sequel finds ample hilarity in the Hudson Valley's oddest small town." —BookLife
"Arnold Falls bristles with zany events, quirky locals, and colorful newbies. Above all, this memorable enclave buoys its people through heart, soul, wit, and a true sense of collective spirit." —Chanticleer Book Reviews
"Charming…effervescent…delightful." —Foreword Clarion Reviews
$2.99 on Kindle.