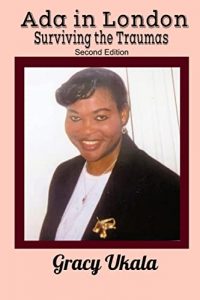 Ada in London, Surviving the Traumas is the story of a Nigerian Headteacher who is persuaded against her will by her husband, to relocate to the United Kingdom, in order to work and save her family from financial ruin. This is after he, Fred, had gone abroad and lost a huge sum of borrowed money, under suspicious circumstances. Fred, instead of taking the plunge himself, of relocating to a foreign country, to put right the mess he has made, he insists that Ada should abandon her family and go abroad.
Ada refuses over and over again, but her husband uses all bullying tactics to make her believe that, if her family got into financial ruin, it would be Ada's fault and it would be simply because she is very selfish and doesn't care enough about her family's welfare…
Ada succumbs to all the pressure from her husband and her children and travels to London with very little money in her pocket ..
All through her first few years in London, Ada suffers from all sorts of problems:
– acute cold
– racism
– degradation
– acute loneliness
– lack of money
– total lack of love and support from her husband
– several heart-rending bereavements
and so on and so forth.
If you are wondering how Ada manages to survive the traumas, just get a copy of the novel and read her story for yourself.
Here's one review from Outskirts' Press who first published the book in 2005.
"A lot of burning and topical issues are covered by Gracy Ukala in Ada in London. Such issues include a woman's ability to survive nobly without succumbing to "selling her body", or compromising her
human dignity. She touches on other issues such as "faith in God" and "faith in oneself". Ms Ukala's most poignant and passionate theme remains the need for equality of the sexes to some extent, especially, in relationships or marriages. She believes fiercely that every woman has a right to choose what makes her happy, instead of being forced to remain in a relationship because that is what society expects of her, or because that would make her man happy!"
There are many more issues that Ada has to tackle in order to be true to herself and to her God. Ada's survival is mainly due to her own determination to succeed. Ada's hard work, her leadership skills and her absolute faith in God, all combine to see her through her dark moments of suffering.
Here's another review:
"Ada in London is full of suspense. It is fast-moving, simple, and very easy to read. Any one from the age of 18 onward, would enjoy the story thoroughly, as the issues tackled in this book are about mature life situations. This is a very well-written book by an award-winning novelist. I promise you, once you pick it up, you won't want to put it down until you finish reading it!
I heartily recommend Ada in London-Surviving the Traumas, to you. Happy reading!"
Jonathan Edwards.
———
Pick up Ada in London now and enjoy!! $9.99 on Kindle.