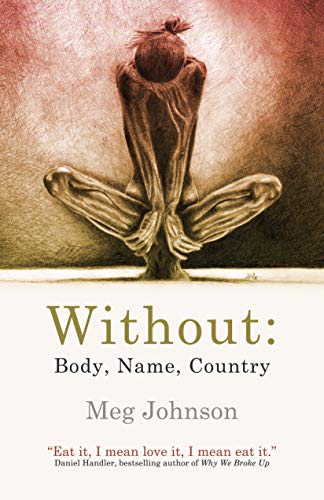 "Pick up this book and eat it, I mean love it, I mean eat it." —Daniel Handler (a.k.a. Lemony Snicket)
"…we see that perfect world crumble with her diagnosis of Guillam-Barre syndrome in which a person's immune system attacks the nerves." —Martha Engber
In Meg Johnson's third full length collection, Without: Body, Name, Country, strange experiences become familiar and familiar experiences become strange, as a human body, a sense of self, and an entire nation all teeter toward the verge of destruction.
In daring poems and intimate flash nonfiction pieces, Johnson portrays a world that is corrupt yet full of possibilities. Sometimes frightening, sometimes funny, one woman's struggles with health, identity, and politics reveal universal adversity, longing, and wildness.
Reading this book is to climb "a spiral staircase in a tower full of fun house mirrors." Without: Body, Name, Country is the book you didn't know you needed.
"A ferocity that has to be read to be believed." —Shaindel Beers
"Read this collection and marvel." —Anne Champion
"A fierce, playful, unapologetic, and morally complex examination of life. Those who enjoy memoir and poetry will find both forms seamlessly and searingly interwoven here." —Mark Leidner
"A spot-on sense of humor evident from page one onward. She circles her own themes returning again and then one more time to investigate what it is to grow up pretty, to remain single after thirty, to face life-altering illness." —Joanne Nelson $2.99 on Kindle.