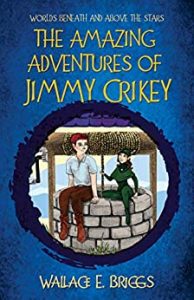 Jimmy's orphaned life was miserable because of incessant bullying because he looked different. He ran away in search of a place where he could fit in and stumbled into the underground world of Roombelow. There he rescued the little lady, Gemma, who lived at the bottom of the well but didn't know how she got there.
With the aid of magic from the friendly Witch Matilda, Jimmy's courage saves Roombelow from several threats and he discovers the cave world which Gemma had been swept away from many years ago. Jimmy reunites Gemma with her family in Lithania. But Gemma is kidnapped by the Traders who carry her away to their world across great oceans. Magic and the aid of the Weatherman assist in Gemma's rescue.
Jimmy's confidence has grown so he decides to use the starship to visit his home on the planet of Attalia. An interstellar war ensues. His plan to defeat the aggressors succeeds and Jimmy, who has no living relatives remaining on Attalia, must decide where his future lies. He returns to his family of friends in the place he now calls home – Roombelow. See price on Kindle.