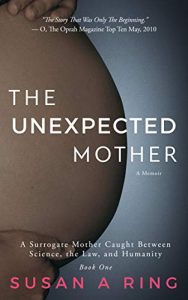 You know the pregnancy was a mess…when Oprah hears your story and wants it for O Magazine…twice!
Would Susan, a single mother of two, survive the oddest surrogate motherhood debacle ever?
It wasn't her first time carrying the couple's baby. Their son, Evan, was healthy and delightful. When the couple decided they wanted a second child, Susan was happy to be their surrogate again.
Contracts were signed.
The miracle happened…thrice.
It was the first trimester when Susan found out the couple were getting a divorce, there was an undisclosed history of mental disorder, and they were filing for bankruptcy. They were in breach of contract. She was carrying triplets.
Susan's world collapsed around her…
…and then it got worse.
You'll be enthralled by this true story of one surrogate mother's 9-month journey, because it has more twists and turns than a Hollywood thriller. $3.99 on Kindle.