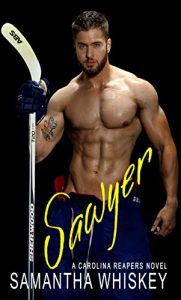 On paper, we shouldn't work.
But in reality, our chemistry burns hotter than these Charleston nights.
We've agreed to no-strings,
But every taste leaves me wanting more.
And more is where she draws the line.
The past haunts her, and my obligations own my present.
But it doesn't stop me from wanting a future with her.
Our worlds are drastically different—
And when they collide?
The fallout jeopardizes my contract, and puts our hearts on the line.
Now I'm the one begging her to risk it all—
Or we'll lose everything worth fighting for.
Welcome to the Carolina Reapers, Samantha Whiskey's newest hockey series where the chill of the ice meets sultry southern nights. $0.99 on Kindle