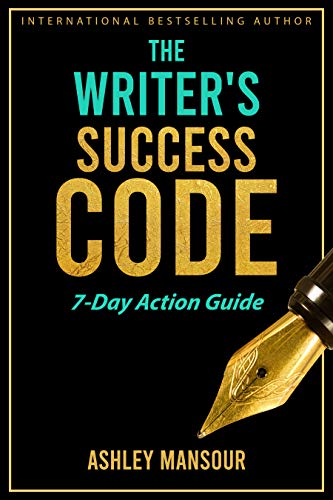 Why do some writers succeed while others keep struggling?
Find out what REALLY moves the needle when it comes to writing success in this e-book from international bestselling author, Ashley Mansour.
After 12 years as a professional writer and over eight years in entertainment as a writer, award-winning producer and an international bestselling author, Ashley Mansour presents a step-by-step action guide designed to help writers stop struggling, take back control of their writing goals and fast-track their books or screenplays to completion with tools and strategies designed to help yield results fast. Specifically for writers on the verge of success, but who need a "how-to" guide on breaking through, this book is packed with the tools and frameworks to help writers get started and accelerate their path to success. Regardless of your experience, your stage in life, or where you've started, in just 7 days, Mansour helps all writers position their projects for big wins, lasting success, and helps them accomplish their dreams of writing and publishing their books or finishing their screenplays.
The 7-day guide features daily instruction, interactive lessons, pro tips and stories shared from Ashley Mansour's own experiences working with dozens upon dozens of writers – successful and unsuccessful – over the course of her career. Daily tools, exercises, and exclusive content will help you reach your maximum potential as a writer, no matter where you're starting from or what struggles you are facing with your writing. Whether you're writing fiction, nonfiction or a screenplay, this book will provide the tools and strategies to help you accomplish your writing goals faster – and with more joy – than you ever dreamed possible. Here, Mansour reveals the top THREE SECRETS of writing success that transformed her career in a matter of months and shares how YOU can achieve unprecedented change, progress and confidence to truly transform your writing hobby or side hustle into a powerhouse career.
In these pages, through simple explanations, stories, and daily lessons, you'll discover …
The make or break secrets that allow some writers to breakthrough and FINALLY achieve success
The fastest way to finish your book OR screenplay – guaranteed!
Top methods that help writers write faster, better, AND produce amazing results!
The top THREE things every single writer needs to master in order become successful
The secrets of writing success that bestselling authors know and you don't!
How to get to THE END when you have a great idea but don't know where to start
The NUMBER ONE mistake writers make that holds them back, and keeps them from achieving their dreams – it's not what you might think!
Daily tools to kick-start your writing journey and streamline your process
Strategies to overcome writer's block, fear, procrastination and self doubt
Methods to virtually guarantee you can stay on track when you get stalled or stuck
$0.99 on Kindle