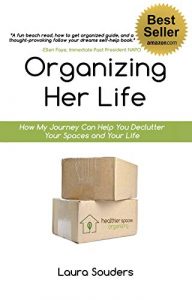 In Organizing Her Life, Laura Souders, Professional Organizer and motivational speaker, invites us into her personal journey, traveling through her struggles and triumphs, to create a meaningful life. She shares how small steps led her to big change that positively impacted her physical space as well as her life path.
Organizing Her Life is for people who want to improve their lives, without getting bogged down by reference books about organizing.
In Organizing Her Life you will:
• Learn Laura's 4 Step System to organizing any space
• Discover ways to change your mind set about things you own
• Gather easy to use, applicable tips to organize
• Gain knowledge to help find your passion
• Be inspired to improve your life
Learn how to transform not only the rooms in your home, but the spaces in your life, to have that calm, inspired existence we all desire.
$0.99 on Kindle.