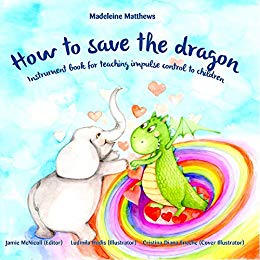 Wrinkles is an adorable and well balanced elephant. Flappy is a cute and energetic dragon. They live in a wondrous world together, filled with mysteries.
They are each special in their own way and they have super-powers that they can use whenever an emotional 'alarm' is triggered.
Wrinkles and Flappy become separated, putting their mission in jeopardy. In this book, you will learn about the two secrets that bring them back together and help them to get back on track and accomplish their mission.
Why choose this book?
The story, through the characters in this book, represent the process we all go through when controlling our emotions and allows children to visualize this process. It offers parents simple, helpful prompts in teaching children emotional and impulse control. It illustrates and describes, through rhyme and funny and accessible characters, the benefits of emotional control of all parts of the brain.
Rhyming lyrics help children to remember to tell the story, enabling them to remember how to access their internal resources in order to process events and emotions. Free on Kindle