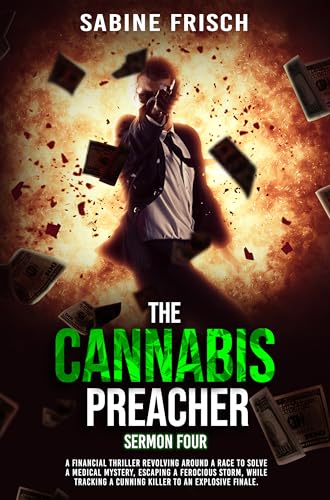 In this action-packed financial thriller, Al Ivers and his two brothers live with the constant fear of an elusive killer who has sworn to take revenge on their family. Al's life is already complicated enough as the majority shareholder of the largest cannabis company in the country, but a mysterious illness is making him increasingly weaker.
Meanwhile, Al's best friend and advisor, Rafael, is stranded in a tropical storm thousands of miles away. With no leaders, the company is thrown into chaos. The vice president, Thomas Donnelly, attempts to take over, but he proves to be a destructive force threatening to tear PerCan apart.
With no one else left to turn to, Kayla Montecito must step up to take control of a million-dollar harvest, but a near-deadly attack on one of Al's brothers leaves her at the center of a worker's revolt.
Even as they battle to regain control of the company, their sworn enemy launches a final, explosive attack, leaving everyone's fate hanging in the balance.
Will the Ivers brothersand Kayla and Rafaelsurvive the killer's wrath, or will their empire come crashing down? Find out in this nail-biting financial thriller that will keep you guessing until the very end. Free on Kindle.