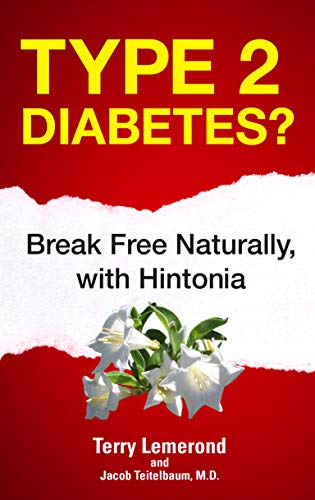 You don't have to settle for a life with Type 2 Diabetes!
Whether you have already received this diagnosis, or it's on your radar as an area of concern, this powerful book has the information you need to prevent or reverse Type 2 Diabetes. Going beyond the timely advice of sensible diet and lifestyle choices, authors Terry Lemerond and Dr. Jacob Teitelbaum open the door to a highly researched and proven miracle herb called Hintonia latiflora.
Shown through clinical studies to reduce blood sugars, overcome insulin resistance, and more, Hintonia latiflora is your secret weapon. An easy to read and understand guide to your best, healthy life, this book will show you how to lower A1C and blood sugar levels.
Complete with a special letter from Dr. Teitelbaum, M.D., to share with your health professional, Type 2 Diabetes? Break Free Naturally, with Hintonia is a must-read for anyone concerned about Type 2 Diabetes. $0.99 on Kindle.