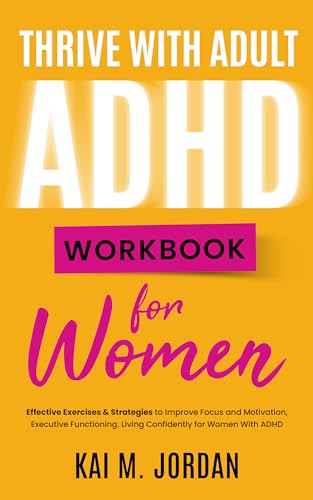 Learn How to overcome ADHD distractions and stay Organized, Master Your Relationships, Control your Emotions, and advance your career, and finances with 30 practical exercises NOW!
Studies show a greater number of cases diagnosed with ADHD in the young women population every year, pressure from society and women-related struggles play a factor in this.
Are you sick and tired of daily distractions and struggling to focus on one thing for some time?
Have you tried countless other focusing methods and techniques for ADHD but nothing seems to work?
Do you finally want to say goodbye to ADHD symptoms and discover something that actually works for you?
If so, then this book is for you.
Living a worry-free life from ADHD doesn't have to be complicated.
Even if you've tried other solutions that didn't work.
The truth is, it's much simpler than you think.
Amazon Best-selling author, Kai M. Jordan provides you with a step-by-step blueprint to overcome ADHD distractions and improve your focus, relationships, career, financials and all other aspects of your life without overwhelming yourself with complicated approaches and strategies.
In Thrive with Adult ADHD Workbook for Women, you'll discover:
The biggest mistake people make when living and dealing with ADHD prevents them from enjoying a peaceful distraction-free life.
The only techniques you need to know for a more successful, focused, and enjoyable life with ADHD.
The 5 ways to live your dream life distraction-free with 30 practical exercises to apply throughout the year.
Secrets to a happier, healthier and stress-free life without sacrificing all your time and mental energy to achieve it.
What Dr. Michele Novotni said about the relationship between Decluttering and ADHD!!
Why your distraction level is hurting your progress – and what to do to overcome it.
The best yearly plan with 30 exercises crafted carefully for you using scientifically proven strategies to help you on your journey to thrive with adult ADHD.
Practical strategies, solutions, tips and tricks to control your relationships, deal with rejections, declutter your home, manage your relationships, manage your finances and improve your career.
…and so much more!
Imagine how you'll feel once you enjoy your life distraction-free, more relaxed and focused on your goalswhile controlling your ADHD, and how your life could change for the better.
So if you're currently suffering from ADHD symptoms, you can now rewire your brain, take back control of your stuff and enjoy a more peaceful life with Thrive with Adult ADHD Workbook for Women!
If you're ready to get a more focused, stress-free Life then scroll up and click "add to cart" NOW! $0.99 on Kindle.