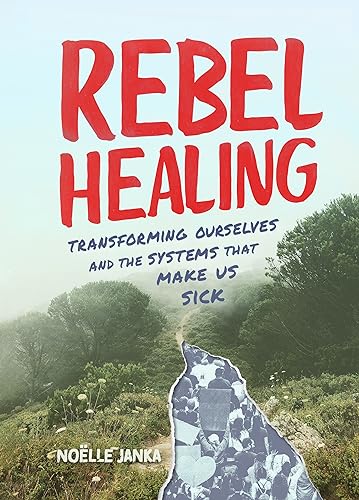 Do you struggle with chronic illness? Have you been searching for a more effective approach to healing? Noëlle Janka's Rebel Healing: Transforming Ourselves and the Systems That Make Us Sick is unlike any other book you've read about healing. This insightful guide offers a fresh perspective on the complex relationship between individual well-being and the larger societal systems that contribute to chronic illnesses. Rather than treating illness as an individual matter, she shows readers that their illness is not their fault and points them to the power and agency they have to heal themselves and the systems that made them sick in the first place.
Noëlle goes to great lengths to show the systemic reasons for our illness and how to heal within a sick society. She reframes the discussion of illness to say that the opposite of illness is not health but justice, and that it is our sick systems that make many illnesses chronic, like conditions affecting primarily women that get ignored or go undiagnosed in mainstream medical contexts. By acknowledging the social and political roots of chronic illness, and uplifting wisdom from the disability justice and healing justice movements, Noëlle empowers readers to find their own path towards healing and become agents of change in the world around them.
In the pages of this book, you'll discover:
A radical redefinition of healing
An understanding of the social and political causes of chronic illness
Steps to start building a strong foundation for healing right now
Strategies to heal in community
Resources to turn your challenges into superpowers
Strategies for cultivating the hope and resilience needed to thrive amidst adversity
Let Noëlle's years of personal experience and professional expertise as a coach help you reclaim the full potential of your healing journey. Free on Kindle.