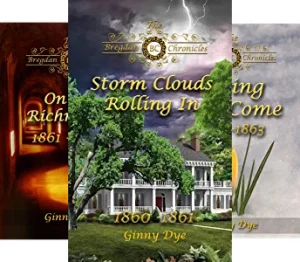 The Amazon best-selling Bregdan Chronicles bring the years during the Civil War and Reconstruction to life in a riveting fashion – using characters you will fall in love with and history that is meticulously researched. Romance. Danger. Challenges. Joys It's all here, waiting to be discovered.
Millions worldwide have already joined The Bregdan Chronicles Family – providing 11,200+ reviews on Amazon. Every new release has been a Best-Seller.
Right now, there are 19 volumes in the series, but more are on the way. The author, Ginny Dye, hates to see a good story end. She doesn't plan on ending it anytime soon! There are simply too many stories to be told.
Prepare to discover the truth about the Civil War, and to have your eyes widen in disbelief as the Reconstruction years come to life.
Free to $8.99 on Kindle.