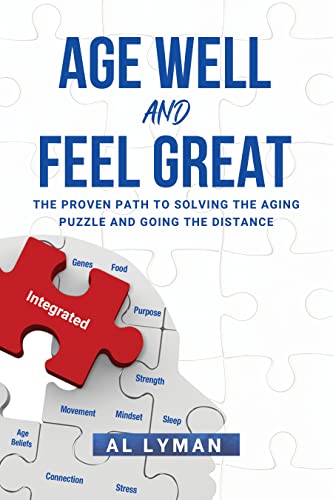 You can make positive changes that will have a powerful and lasting impact on your health and well-being…
What if you could see yourself in the future? Are you struggling with physical pain and emotional decline, robbing you of the opportunity to age well and enjoy life?
If the answer is yes or even maybe, don't despair, there is hope. You CAN age well and feel great for years to come. And it doesn't matter how old you are now.
Anyone can improve their health and impact how the second half of their life plays out. All you need is the right awareness and actionable steps to show you the way. In Age Well and Feel Great, Al Lyman shares with you the latest science, crucial practices, and practical tools that will help you discover how to:
Become truly healthy, so you can enjoy life until your very last day.
Avoid chronic diseases and physical breakdowns as you age.
Eat, sleep, and manage stress for good health and optimal aging.
Incorporate the most beneficial types of exercise into a busy schedule.
Build an aging belief system that encourages the ideal balance between self-acceptance and self-improvement. $2.99 on Kindle.