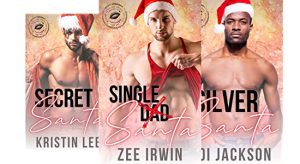 A struggling singer suddenly playing sultry Santa. A mayor with hopes too high for love. A town in need of reinventing itself. One Christmas wish will make everything right.
My Nashville dreams of making it big on the country music scene shattered to pieces, but I received no sympathy from my brother.
He'd cut me off from the family fortune unless I delivered some bad news to our old hometown of Kissing Springs. It shouldn't be difficult. I'd even take my daughter with me because it's my turn with her for the holidays. I'd show her around where I grew up. Then I'd meet the mayor and deliver the bad news.
Only I didn't plan on running into Meadow Boyd as the new mayor.
One look into her baby blue eyes and I knew—I'd work real hard to make her dreams and plans come true in more ways than one.
Welcome to Kissing Springs, the Romance Capital of the South. In this new collection of steamy holiday romance, nine authors bring you standalone stories from single dads to second chances, ex-military to sports romance. There's someone for everyone. So grab a cup of hot cocoa and snuggle in for a collection of small town stories that will keep you warm all winter.
From $0.99 to $2.99 on Kindle.