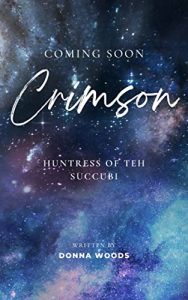 Seduce. Steal. Condemn.
That is the objective of the succubi. They walk along the earth, preying on the desires and fantasies of lonely hearts. Perfection is their weapon of choice, wielding it expertly while their true selves are hidden beneath the surface.
Duty. Honor. Talent.
That is the mantra of Crimson DeHaven. Though, she wants nothing to do with the succubi that she has been able to sense since she was a little girl. Unfortunately, her abilities were passed down through her creole ancestry, forcing her to become a demon huntress. Her appointment doesn't allow her to have the one thing she wants the most, a normal life.
Love. War. Secrets.
These three things alter the course of Crimson's life. When she meets a man who could be the one, she is forced to make a choice. Tell him about who she really is or walk away from the only man she has ever loved. But what will Crimson do when the decision is yanked from her hands, and war is brought to her doorstep? Will she cower under pressure, or will she finally step into her role as the Atlanta Huntress of the Succubi?
$2.99 on Kindle.