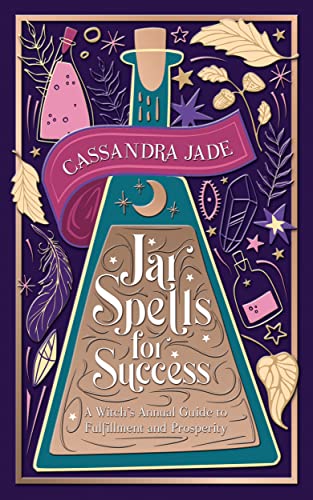 Learn How To Make Jar Spells That Will Attract Love, Health, Wealth, and Prosperity!
Do you believe that you deserve more than you have now? Do you struggle to make your dreams come true? Do you know that the Law of Attraction can work but find it hard to manifest it into reality consistently in your life?
If so, there's a simple solution: JAR SPELLS.
Imagine thinking of something you want, then simply gathering a couple of ingredients, meditating for a moment before creating a beautiful decoration to look at regularly and help remind you of that intention. Imagine becoming more focused and able to attract more of what you want into your life easily. Imagine being able to live your dreams!
Amazon bestselling author, Cassandra Jade, provides a start-to-finish blueprint for creating jar spells that work. She'll explain to you, step by step, how to gather ingredients, focus your dreams, state your intention and then put them all together in easy jar spells that are as beautiful as they are magical.
In this book, you'll receive more than 40 brand-new tips and spells, not previously shared anywhere else before, for developing your spell-making abilities in order to make your dreams reality. What if you don't believe in that kind of thing? Although jar spells are an ancient form of folk magic, you can think of them as a type of self-hypnosis to help you focus on refining and achieving your goals.
You'll learn everything from the essentials to more advanced methods. At their most basic, though, jar spells help your heart speak through this process. They also transform thoughts and invisible psychological processes into something visible that you can put on your shelf or carry around in your purse. The process of making jar spells, magic or not, often helps you understand yourself better and is as relaxing as it is fun and meaningful.
In JAR SPELLS FOR SUCCESS, you'll discover:
More than 30 original jar spells have been created specifically for this book
A month-by-month approach to spell making with specific information and spells connected to Nature and the seasons
How to create spells that work both based on ingredients, emotions, and intentions, which you can adapt and tailor based on your personal biases
Specific tips for gathering spell ingredients locally, ethically, and responsibly
Advanced jar spells such as contacting your Guardian Angel and harvesting love from the universe around you
And much, much more!
Buy your copy of JAR SPELLS FOR SUCCESS today to finally start living the life your heart keeps trying to let you know that you were meant to live! Free on Kindle.