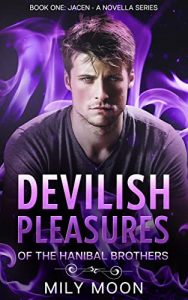 A demon finds his fated mate—only to learn she's engaged to another…
Jacen Hanibal never wanted to leave home, but the heart wants what the heart wants. And his heart's fire wants his fated mate, a human woman named Evelyn Knight, an exotic dancer from an underground nightclub in the city.
Hunting her down isn't a challenge. The challenge begins when he finds her and discovers the awful truth.
She's promised to another.
Faced with this devastating news, Jacen makes a plan. His mission befriend Evelyn, and the enemy, her fiance. Take his time getting to know them both. Win Evelyn's heart and tail his romantic rival. A rival with more secrets than anyone man should have.
Jacen knows he is Evelyn's fated mate, and he knows this man can never make her happy. He must stop her from marrying the wrong man, but how? How far will he go to protect his fated love? $2.99 on Kindle.