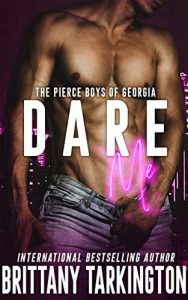 Boring. Unchanging. Normal. That's Raquel's life.
A nice boyfriend, a few friends. She was content, or at least that's what she's convinced herself. The racing thoughts, the urge for more, It never really leaves her. It lingers under the tricks she plays with her mind to fit in. To blend.
But when her mom announces they have to move in with Raquel's grandma halfway through senior year, content is no longer an option.
Now she's on his turf, his rules. From the moment she stepped foot into his school, there's nowhere to hide. No way to fight off the feelings she never knew she'd been craving. The one's she told herself were wrong her entire life.
Roman Pierce is dangerously close to breaking her. He's the opposite of everything she's ever wanted, needed. And there's no stopping him.
For the first time in her life, hiding in her head isn't an option. The only question, will she survive a war in the middle of the Pierce brothers?
Free on Kindle.