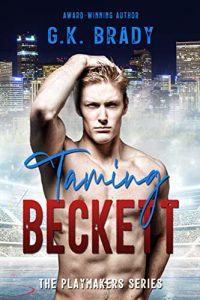 His career is in the penalty box. She's struggling to save her marriage. Are they about to make the perfect store Beckett Miller's hedonistic lifestyle just got iced. After a high-profile fall from grace over a drug scandal, the aging pro hockey superstar finds himself without a team, dropped from endorsements, and completely broke. Desperate to turn his home into cash, the league's bad boy is forced to work with a real estate agent with a megawatt smile… and who he'd just made a spectacular fool of himself with.
Paige Anderson's sales success hasn't translated to relationships. With a cheating husband plunging her into divorce, the last thing she desires is to have a scandal-plagued playboy athlete as a client. But the high commission she'll get from the sale seems worth it… especially when he unexpectedly becomes a shoulder to cry on. Surprised when he develops feelings for the beautiful realtor, Beckett decides it's time to clean up his act and plan for the future. And though Paige can't stop thinking about the troubled all-star, she worries he'll betray her like her soon-to-be-ex.
Can this damaged duo put aside their fears and take a slapshot at love? Taming Beckett is the tantalizing first book in The Playmakers Series of sports romances. If you like swoon-worthy characters, slow-burn chemistry, and enemies-to-lovers attractions, then you'll adore G.K. Brady's steamy read.
Winner of the 2020 Independent Publishers Book Awards Gold Medal for Best Romance E-book? Winner of the 2020 Independent Readers Discovery Award for Romance? Finalist for the 2020 Next Generation Indie Book Awards for Romance $0.99 on Kindle.