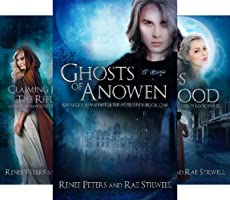 Welcome to the World of the Aegeans!
Here, in a march across millennia, mythical creatures move throughout the societies of men on a journey that brings them out of the shadows. With the help of true love — or a nudge from fate, every Aegean discovers the dawn.
The World of the Aegeans introduces a new breed of Immortal to the paranormal genre, calling on both Greek inspired mythology and High Fantasy tropes. Descended from the Fae, their blood drinking is a curse and secondary to their need of musical soul ties to live. Their innate gifts and powers range beyond those generally established for vampires, leaning on the elemental powers associated with the Fae.
While set in eras that span from Medieval to Regency England, the series boasts a culturally diverse cast of European, Arabic and African Immortals who add inclusivity and diversity to a genre not particularly known for it. The Regency Era in which several stories are set is not featured often as a setting for the paranormal, adding to its unique appeal.
We hope you laugh with, cry for, rage against, and cheer on our characters as they chart their sometimes-wayward course through eternity. It is our pleasure to write their stories, and, we hope, your satisfaction to experience them. Free to $2.99 on Kindle.