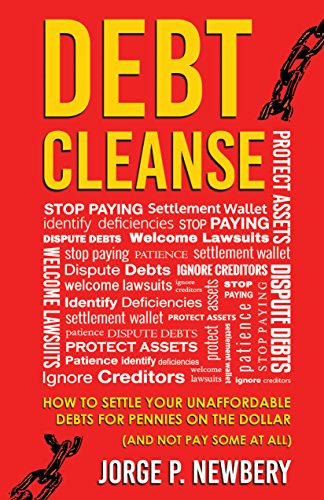 Don't let your debt burden you one more day. This book will set you free – with simple, actionable steps and strategies.
Jorge Newbery was once left $26 million in debt, after a natural disaster devastated his business. Predatory creditors swarmed; but what he discovered will amaze you.
In this book, Newbery reveals his proven debt-cleansing methods. In simple, step-by-step instructions, you'll learn how to…
Assert your rights and defend yourself against creditors.
Stop making payments — and turn that to your advantage.
End harassing collection calls.
Dispute your debts to stack the odds in your favor.
Uncover deficiencies that can put money in your pocket.
Protect your assets from creditors (100% legally).
Negotiate the best possible settlements.
Be debt-free for life.
Debt Cleanse shows you how to gain leverage over your creditors. You can settle your unaffordable debts for pennies on the dollar – and not pay some at all. $0.99 on Kindle.