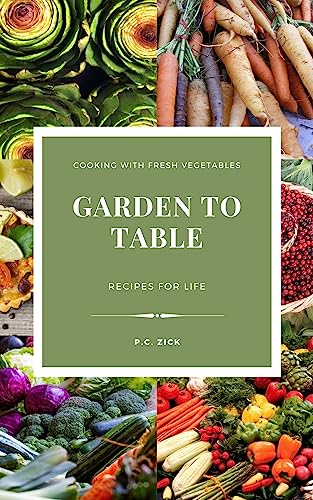 Garden to Table – Recipes for Life provides plenty of recipes for produce from the garden during seasonal bounties.
P.C. Zick has learned over the years how to handle and use the vegetables and fruits her husband grows in his fertile garden. With each season, she discovers new methods for efficiently cooking tasty meals. She's also found ways to preserve the produce in a way that is sustainable.
This little cookbook will help you discover some tricks and shortcuts while still making food that is healthy and scrumptious. Nothing beats sauce made with fresh tomatoes. Overwhelmed with zucchini and yellow squash? No problem. You'll find plenty of uses for them from appetizers to bread to delicious side dishes to accompany any summer meal. Recipes for winter squash will warm any and all on cold winter nights. Even the typical sweet delights are made even healthier by depending less on sugar and more on the sweetness of the fruits themselves.
Grab a copy of Garden to Table today and find your own way to eating healthier without feeling deprived. Free on Kindle.