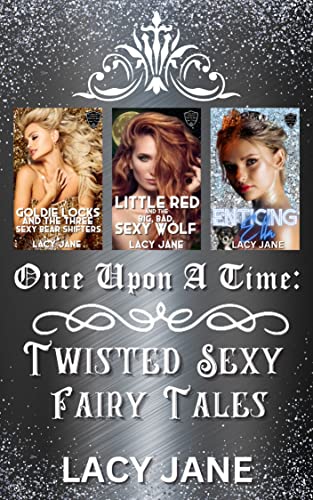 The first three books of Once Upon a Time: Twisted Sexy Fairy Tales:
Goldie Locks and the Three Sexy Bear Shifters
Once upon a time, there was a girl named Goldie Locks who had very sexy dreams…Every night, Goldie has dreams about her fated mates-three sexy bear shifters, but wakes every morning alone and longing for them. When she finally finds her beasts, they are ravenous for her. The sexy, possessive brothers will show her what it's like to be loved by three passionate shifters who are obsessed with their mate. This very adult fairy tale is hot, hot, hot! If you prefer your romances squeaky clean, this is not the book for you, but if you like your romances racy and sexy, this is right up your alley. Three sexy shifters, a strong heroine who knows what she wants, and (of course!) a HEA.
Little Red and the Big, Bad, Sexy Wolf
When shifter Damian Wolf meets Scarlett, he'll stop at nothing to make her his. Will the big, bad, sexy wolf and his human fated mate get their happily ever after? Find out in this modern, sexy take on Little Red Riding Hood. This is the second book in the series. Each book is a stand alone, though characters from the other stories occasionally make appearances. As always, this book has high heat, no cheating, instalove, and (of course!) a HEA.
Enticing Ella
After a night of passion with Prince, Ella disappears. Now that he has claimed her, Prince will stop at nothing to find Ella and make her his bride. Can he save her from her evil stepmother in time? Find out in this sweet, spicy, modern version of Cinderella, complete with a ball, one evil stepmother, a fairy godmother of sorts, and Ella's adorable little dog, Cujo.
As with all of my books, this contains high heat, instalove, no cheating, and (of course!) a HEA. Each of my books is always a steamy read with HEA guaranteed. Enjoy! $3.99 on Kindle.