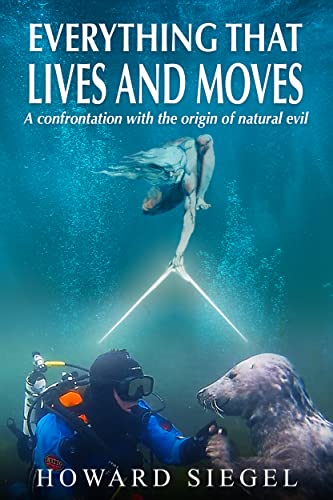 Two million years BCE: A plant-eating hominid in the African Rift Valley discovers that taking life from the things that live and move can provide a new way to survive.
December 1945: A black goat wanders into a cave in upper Egypt and its owner finds a partially buried eighteen-hundred-year-old gospel said to be authored by Jesus's twin brother, Didymus Judas Thomas. It contains only the words spoken by Jesus and mentions nothing about miracles or divinity. A verse suggests that Jesus pondered the possibility of a material origin of God and spirituality.
Today: A sea lion approaches a diver-scientist for help removing a fishhook from his flipper. The encounter will start Dr. Peter Shelley on a journey that will change his life. A few hundred miles south a hospital neurologist sees a horrifying artificial intelligence-generated image on his laptop that causes him to euthanize his patient and end his own life.
A neuroscientist, a giant street corner philosopher, a comparative religion scholar, a lawyer, a consultant to the livestock industry, a slaughterhouse worker, a pope, and a president get a terrifying glimpse at the origin of evil. The vision they encounter will send them on a mission that will horrify and enlighten mankind.
$0.99 on Kindle.