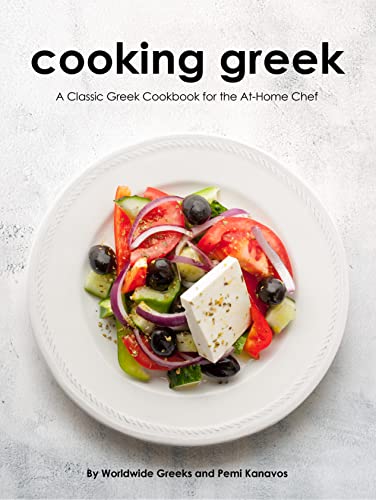 This visually beautiful Greek cookbook contains over 200 pages of flavorful and delicious classic Greek recipes presented in a simple easy to follow manner for all level at-home chefs.
Greek cuisine can seem intimidating, but when presented by chef Pemi they are anxiety free! With a culinary arts degree, experience teaching Greek cooking classes, and thousands of hours in her yiayias (grandmothers) kitchen, chef Pemi brings a unique perspective with her flavor profile, instructions and beautiful full page photos of each dish.
Cooking Greek: A Classic Greek Cookbook for the At-Home-Chef, by Worldwide Greeks and Pemi Kanavos, is the perfect cookbook for foodies and makes a great gift for any occasion.
Discover how to cook some of the most popular, authentic Greek recipes including baklava, tiropita (cheese pie), dolmades (stuffed grape leaves), pastitsio (macaroni pie), spanakopita (spinach pie), Greek meatballs, loukoumades (Greek donuts), tzatziki(cucumber yogurt dip), souvlaki (meat skewers), galaktoboureko (milk pie), Greek style octopus and many more mouth-watering Greek recipes.
As an added bonus, the food forum on Worldwide Greeks provides an additional resource for recipe clarification, variation ideas and the opportunity to ask chef Pemi and other food experts your recipe related questions.
The cooking experts at WorldwideGreeks.com and Chef Pemi Kanavos have created a visually stunning, classic Greek cookbook for all levels of at-home-chefs. Pemi Kanavos is a classically-trained pastry chef with a culinary arts degree and a love of feeding people, and sharing her Greek culture and cuisine. $9.99 on Kindle.