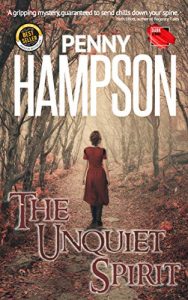 Kate Wilson didn't believe in ghosts…
Kate is done with men. Broken-hearted after discovering how she's been duped by her boyfriend, the unexpected legacy of a house in Falmouth is her chance to make a fresh start. But the best laid plans…
A ghostly figure, doors that lock by themselves, and a charismatic portrait that appears to have a life of its own, signal that Kate's new home may be haunted – either that, or she's going mad.
Then there's her enigmatic neighbour, the broodingly handsome Tom Carbis, who seems to turn up wherever she goes. Despite a strong mutual attraction and a shared passion for Cornwall, Kate suspects that there is much more to him than he's letting on.
The discovery of a hidden journal leads Kate to a romantic mystery from the past – a mystery with connections to Tom's family, and one that Kate feels compelled to solve. But unravelling long-buried secrets can be dangerous, as she soon finds out.
Will Kate discover the truth about the past and find her own happy ending? Or will history repeat itself? Free on Kindle.