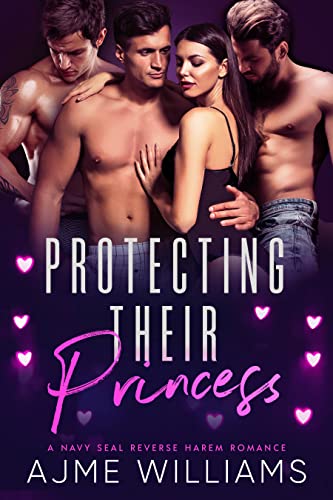 Falling in love with my former Navy SEAL protectors was easy.
But avoiding this scandal is the hard part.
Very hard.
My new security team is everything I imagined it to be.
Three strong, hot men that would take a bullet for me.
But the "good girl" of Hollywood needs more than just protection.
No sketchy stories.
No unbelievable rumors.
Except for the one I have with my co-star.
My fans don't know that my heart belongs with the men in my bed.
The SEALs have me thinking about them between cut and action.
They hate that I have to pretend to love my co-star for publicity.
But we all have bigger problems on our hands than just jealousy.
The reason why I hired them in the first place.
Danger is inevitable when you're famous.
Especially when I'm about to bring a child into my world of craziness…
18+ Only. Standalone contemporary reverse harem romance guaranteeing a happily ever after. $0.99 on Kindle.