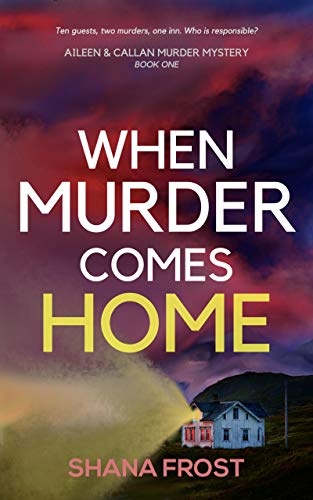 Ten guests, two murders, one inn. Who is responsible?
Aileen Mackinnon ditched spreadsheets and a steady salary for the adventurous shores of Loch Fuar in the Scottish Highlands. Now she's an amateur innkeeper to ten guests. But when one is murdered in his bed and an heirloom goes missing, can Aileen save the inn?
Detective Inspector Callan Cameron won't have her nosing about, but with another body he has little choice in the matter.
Tension sizzles as Aileen and Callan step into a world of murders, deceit, and heists. They might not always see eye to eye, but can they agree whodunnit? If books by Jullian Scott, Paul Austin Ardoin, DK Hood, and Fiona Grace keep you up all night, When Murder Comes Home is the perfect puzzling mystery for you!
What readers are saying about this book:
"Shana Frost spools a great whodunnit with fun characters in When Murder Comes Home!"- Joshua Grant, Bestselling Author, and the Diabolic Shrimp
"This makes for the perfect weekend read!"-Mia Counts Lynch, Bookbub Reviewer
"I felt like I was part of the story. I could not put the book down."-Eileen Townsend, Goodreads Reviewer
Best enjoyed in order:
1. When Murder Comes Home  2. When Eyes Don't Lie  3.When Birds Fall Silent  4.When Red Mist Rises  5.When Old Fires Ignite  6. When Distilled From Rage
Free on Kindle.