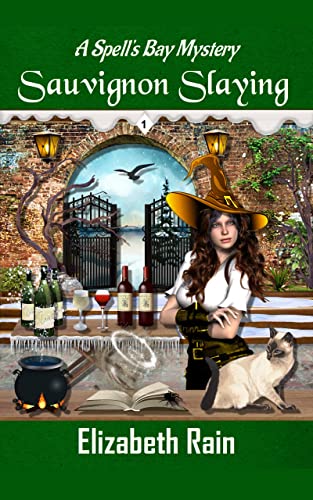 What could a grisly murder, a naked ghost, and a 100-year-old secret all have in Common?
Verity Blume is about to find out…
Moving to Spell's Bay with her nephew Joel was supposed to be Verity's Do-Over…
Instead, she bought the farm…literally. Lock, stock, and flesh-eating spiders…
Crooked Tree is a rundown vineyard and orchard in Veil Falls. It just needs a little TLC. And maybe a bulldozer.
It gets Verity; 40 something, divorced, broke, and a—vine witch? Or so her handsome next-door neighbor keeps telling her. But there's more to Verity's skills than the untapped magic in her hands…and a witch in waiting isn't all she is.
.
When her first paying venue goes belly up….and dead hostess down, Verity will have to solve the murder if she wants to get paid and keep the farm.
In Veil Falls nothing happens by chance…
Sauvignon Slaying is the first book in the exciting new Spell's Bay Mysteries…Come to Crooked Tree, sit for a spell, and have a glass of Sauvignon Blanc as part of the Veil Falls Wine and Murder Show…
$0.99 on Kindle.