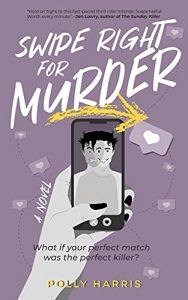 Dating is tough. Especially if the guy you like might be a serial killer.
After a devastating heartbreak and a string of short-lived, failed relationships, college student Georgie Itoyama has now decided to approach dating in the same way that she approaches everything else: methodically, logically, and efficiently.
Georgie downloads countless dating apps, determined to find the love of her life as easily as she orders jeans online. And while her love-at-first-sight aspirations don't exactly come true, she does find someone she likes. Quite a lot.
There's only one problem. Girls are going missing at Georgie's university, and all the signs are pointing to . . . him?
But that's ridiculous. What are the chances that she's dating an actual serial killer?
Then she matches with Nate. Mysterious, intelligent, and oddly fixated on solving the local disappearances. As Georgie's relationships deepen with each of her guys, she unwittingly finds herself caught up in the mess that is murder, intrigue, and the nightmare of online dating.
Fast-paced, hilariously witty, and exhilaratingly suspenseful, Swipe Right for Murder explores the world of modern dating and all the "what-ifs" that come with it. $1.99 on Kindle