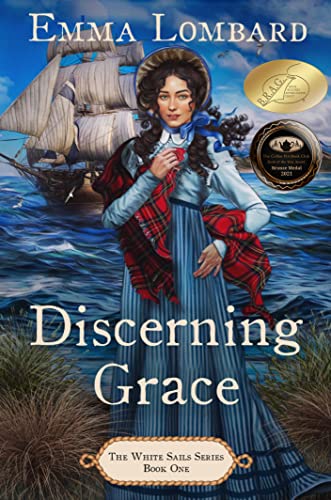 As the first full-length novel in The White Sails Series, DISCERNING GRACE captures the spirit of an independent woman whose feminine lens blows the ordered patriarchal decks of a 19th century tall ship to smithereens.
Wilful Grace Baxter, will not marry old Lord Silverton with his salivary incontinence and dead-mouse stink. Refusing this fate, she resolves to stow away. Heading to the docks, disguised as a lad to ease her escape, she encounters smooth-talking naval recruiter, Gilly, who lures her aboard HMS Discerning with promises of freedom and exploration in South America.
When Grace's big mouth lands her bare-bottomed over a cannon for insubordination, her identity is exposed. She must now win over the crew she betrayed with her secret, while managing her feelings towards her taciturn protector, whose obstinate chivalry stifles her new-found independence.
Touted by readers as, 'If Bridgerton and Pirates of the Caribbean had a love child'; 'Outlander meets a clean version of Black Sails'; and 'A combination of Treasure Island and Jane Austen'. Free on Kindle.