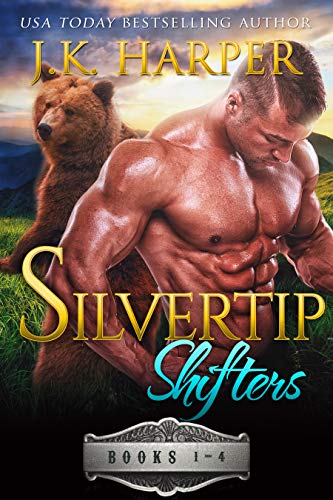 Enjoy the first four books of the Silvertip Shifters series in one set!
Hunter's Moon: Quentin
Bear shifter Quentin must convince wolf shifter Abby that she's the mate of his heart. The full moon mating run just might be his last chance.
Mountain Bear's Baby: Shane
Rough, gruff bear shifter Shane got a fresh start in life. Then his three-night-stand Jessie unexpectedly shows up with a baby boy that's his son…
Taming Her Bear: Beckett
Beckett is a bear shifter wildly out of control. Pix is a dragon shifter who fled her controlling past. Can soothe his savage beast?
Rescue Bear: Cortez
When tormented bear shifter Cortez meets burned-by-love human Haley, she challenges him to find redemption—and claim her as his mate.
These stories are filled with heart-pounding romance, page-turning adventure, and some awesome sexy times. If you love big ole grizzly bear shifters who have a soft spot for their fated mates, the charming and funny details of a shifter-filled small town, and the beautiful power of true love to always save the day, this boxed set is for you. $0.99 on Kindle.