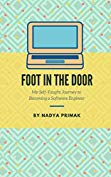 Want to break into the tech industry? Don't have a computer science degree? About four years ago I was in your very shoes. I graduated college with an art degree and quickly realized that "professional artist" was not going to be a viable career path. Design seemed like a possible alternative, but I also found I did not enjoy working directly with clients.
What I did know was that I loved games ever since I was a little girl and I loved to build things and show them off. I applied to some entry level software developer positions, but nobody called me back. I knew I needed more training, a portfolio, connections, something more.
In this book you will learn how to adopt the programmers mindset to tackle difficult coding challenges, strategies to help figure out the best coding resources for you, what kinds of problems you are likely to face at different stages of your journey, and how to calibrate your bullshit detector to avoid abusive managers. You will also learn ways to solidify your knowledge by teaching and mentoring others, coping with imposter syndrome and transition anxiety, and options for learning to code with limited time at your disposal. Free on Kindle.