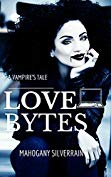 Finding love again is challenging, especially if you are a vampire. So what's a lady vamp to do?
After losing her century-long vampire mate, Dominique LeRoy must find a new mate. Using modern technology, she finds Richard Montague, an account who is also a fire-ball throwing wizard named Azazel. When they meet for a lunch date, their individual powers draw them together, but with one side effect; their attraction and combined power spread to the surrounding people in the restaurant making everyone amorous!
Pursuing a relationship with Dominique proves problematic when he learns she is the one supernatural creature he hates most, a vampire! Dominique may be special; being a telepathic hybrid, vampire/human but can Richard/Azazel let go of his hatred and love Dominique for who and what she is? Free on Kindle.